Oilers On Free Agent Day
With the free agent frenzy starting today, there is a buzz on what the Oilers need to address; a big one being their defense. The market appears to be slim pickings this off-season, with James Wisniewski signing in with Columbus and a majority of the bigger names re-signing with their respective clubs there are a few "diamonds in the ruff" out there that the Oilers may consider now that the whole Souray mess is over.
That being said, here are some of the notable Free Agents Defenseman available that might be prime candidates to see patrolling the Oilers blueline this coming season in addition to Cam Barker signed this afternoon to a 1 year - $2.25M contract.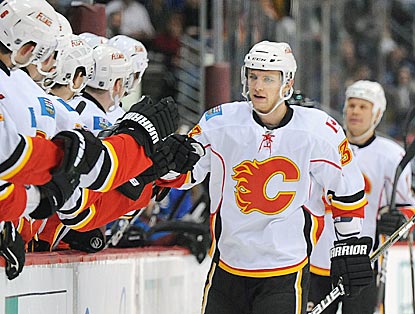 The Oilers could do well in looking into acquiring the services of free agent defensman Anton Babchuk in the"devil you know" category. In 82 games split between the Carolina Hurricanes and the Calgary Flames, the 6'5 - 212lbs. Ukranian defender notched 11 goals, 24 assists with a +14 rating. At 27, the right-hander could be just what the doctor ordered to fit in with the youth movement surging in Oil Country and could be a nice combination to plant alongside Ladislav Smid and create good shut down pairing that would have some scoring punch. Porbably the best choice for the Oilers to look forward and build for the future as well as Babchuk does have the potential to be a future Top defenseman, if he's not already.


Of course, in the longshot category, you can't have a conversation about free agent defensemen without the name Tomas Kaberle popping up. In 82 games split between the Leafs and Bruins, Kaberle notched 4 goals and 47 assists and acheived a +4 rating despite appearing to stuggle at times. He is definitely that "puck moving defenseman" that so many teams talk about needing and could easily slide into the Oilers top 2 pairing and most definitely would add that added offensive prowess needed on the backend and the powerplay. Not to mention the experience of winning the Cup this past season with the Bruins would also provide that to the Oilers locker room; experience that only struggling netminder Nikolai Khabibulin has the distinction of holding for the Oilers. It all remains to be seen where this highly sought after commodity ends up by the end of today, but rest assured, the "Czech" will be huge on this guy, where ever he may land.
Dark Horse UFA Defensemen worth looking into: Anton Stralman, Steve Staios, Shane O'Brien, Staffan Kronwall & Andrew Hutchinson.
On the forward front, the Oilers could definitely use some help as well. And although the signings of Ben Eager this morning and Darcy Hordichuk this afternoon will help in the protectiion aspect of the Oilers younger, smaller players, and add more sandpaper to the 4th line, and of course everyone sniffing around Brad Richards, which the Oilers could also use to solidify a top line between Taylor Hall & Jordan Eberle which would alloww for the re-uniting of Smyth-Horcoff-Hemsky. Where the Oil's needs lie in adding a 4th line center with the departure of Colin Fraser in the deal that brought Ryan Smyth back to Edmonton. The question here inlays: Do you go after a grisled veteran or a solid, young up and comer? There are many candidates out there but what will be the right fit for the new/old look Oilers?
Though some might disagree, looking up and down the list of potential suitors for the position, a logical choice seems to be Christian Hanson. The 6'4 - 228lbs. right-handed centre is the youngest UFA in this year's pool and though his numbers aren't staggering by any stretch (GP: 42 - G: 3 - A: 6 - P: 9 - -3 - Hits: 57 - PIM: 22 over 3 seasons with the Leafs.) he is a tenacious checker and a good skater that would definitely compliment the playing styles of a Ben Eager, a Ryan Jones or a Steve MacIntyre (should he re-sign.) in a 4th line senario. Not only that, but Hanson has also logged considerable time for a young player on the penalty kill in the past 3 seasons with the Leafs and could fit right in the youth movement in Oil Country and find his game playing with more players at his skill level.
Another young pup that might be worth taking look at is Anthony Stewart. Able to play both wing and centre, in 80 games with the Atlanta Thrashers last season, Stewart scored 14 goals and 25 assists. And despite, the obvious knock of a -10 rating, you have to keep in mind that the Thrashers went into a rebuilding stage after dealing star winger Ilya Kovalchuk. The fact is that you cannot deny Stewart's 98 hits and 242 shots nor can you ignore his offensive prowess in notching 11 of his 39 points on the powerplay. With his size, strength and skill, it's almost a no brainer that any team, including Oilers, would be looking to add this young Quebec native their lineup.
Some may find this as an odd choice, but a dark horse pick worth taking a look at would be Jason Jaffray. The Rimby, Alberta native, who has been bounced around from the Canucks to the Flames to the Ducks in the past few seasons, and had actually cracked the line-up in Anaheim last season before being sidelined with a shoulder injury that put him out until the end of February. By then, the season had been lost for the 29 year old and he was placed on waivers and loaned to the Manitoba Moose for end of the AHL regular season playing 6 games notching a goal and an assist with a +2 rating along with 14 playoff games scoring 3 goals and 6 assists. In the previous season in 72 games with the Abbotsford Heat, Jaffray scored 25 goals and 29 assists with an amazing +24 rating. And granted, while AHL numbers don't always translate to the NHL, Jaffray's two-way play is something to actually see to believe and maybe a slightly younger version of Marty Reasoner after turning 30 just yesterday. If anything less than a 4th liner, Jaffray would be a great pick up for some added depth and versatility being able to play both centre and wing and also provides a scoring touch coupled with exceptional two-way play. The only concern with Jaffray is staying healthy, but definitely worth the gamble if you can add that kind of scoring to your 4th line.
Dark Horse UFA 3rd and 4th liners worth looking into: Sean Bergenheim, Chris Clark, Rick Rypien, Fernando Pisani, Josh Hennessy & Brett Sterling.
And last but not least, the Oilers appear to be sticking with their current tandem of Nikolai Khabibulin and Devan Dubnyk for the foreseeable future. The hope is that young Dubnyk is ready to take on more of the load and possibly even eclipse the veteran Khabibulin as the Oilers starter as early as this season. However, the worry is that if the Oilers don't at the very least look to re-sign Jeff Drouin-Deslauriers, they could find themselves on the outside looking in, in terms of having a 3rd stringer in waiting. The goaltender free agent crop looks a to be a little thin this year unless you're looking to bring another veteran presence, which is highly unlikely given the Oilers current make up.


New Faces of the Oilers:
As it sits to this point, 4 signings for the Oilers: LW Ben Eager, LW Darcy Hordichuk, D Cam Barker and C Eric Belanger have signed on the dotted line to play for Steve Tambellini & Co. for this coming season. And while they have addressed part of the defensive need in picking up Barker, it still remains unclear as to what the thinking behind signing 2 similar players in the LW position in Eager and Hordichuk or Belanger for that matter, although the question's been answered about a 4 th line centre. It remains to be seen what else Tamby has up his sleeve for the rest of the day and the weeks leading up to the 2011-12 season. It should be interesting to say the least.
Thanks for reading.
Kruze